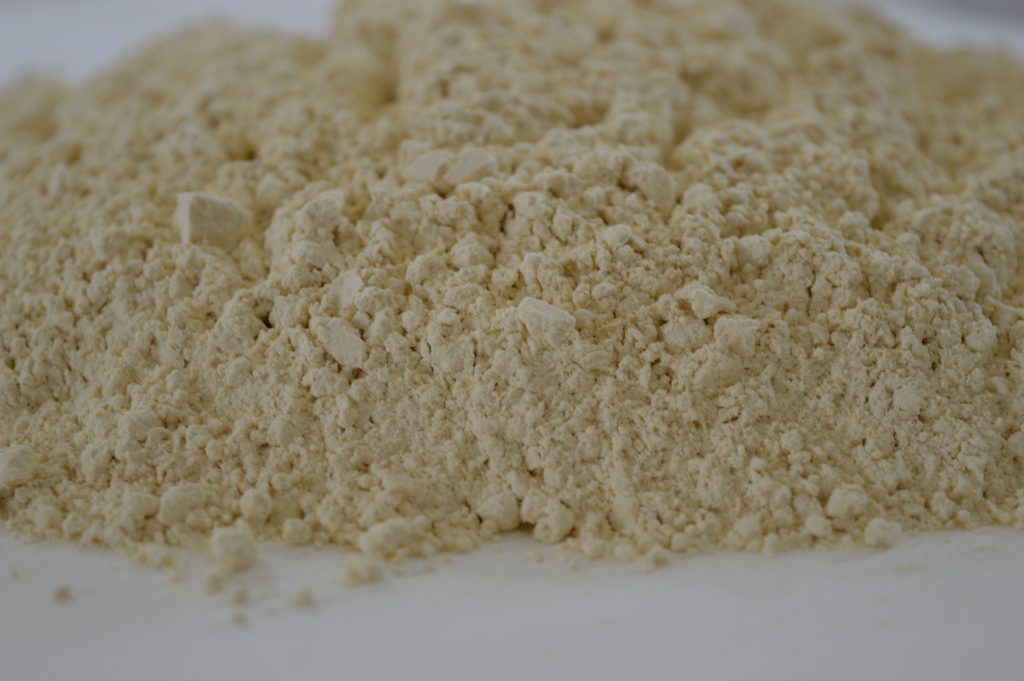 Non GMO De-fatted Soy Flour (Toasted and Un-toasted) is obtained from Soybean seeds by processing them through various stages of cracking, de-hulling, flaking, extracting, de-solventizing, toasting & grinding them in pneumatic mill, to required particle size of fine powder of creamy yellow colour. Non GMO De-fatted Soy Flour (Toasted & Un-toasted) is a high protein and low fat product. It is an excellent source of Iron, Calcium and Vitamin B.
Soya Flours and find myriad uses, right from fortification of the human diet to medicine to chemicals and even as glue in wood manufacturing. In home cooking, Soya Flour is used as a thickening agent in gravies and sauces. In baked products, Soya Flour adds tenderness and moisture and helps to keep products from becoming stale. Soya Flour also makes a good egg substitute in baked products.
Storage: Should be kept in cool & dry conditions below 25°C. Avoid exposure to Moisture, heat & light.
Shelf Life: 6 months from the date of manufacturing.
Packing: In 25, 50 Kgs Net HDPE Laminated Bags, In 500 & 700 Kgs Net Jumbo Bags and Bulk in container with inside HDPE Liner Bags.
NON GMO Defatted Soya Flour-Untoasted

Specification

Physical Form

Powder

Colour

White to Cream

Protein

52.00 % Min

Fat

1.00 % Max

Moisture

8.00 % Max

Crude Fiber

3.50 % Max

Ash

6.50 % Max

Acid Insoluble Ash

0.3 0% Max

Urease Activity

1.9 % Max

NSI

60 – 65 %

PDI

70-80% Max

Partical Size

95 % pass through 100 Meshes

Microbiological

Total Plate Count

< 50'000 Cells/gm

Yeast & Mould

100 cells /g

Salmonella

Nil/25g

Coli From

<10/gm

E Coli

Absent

Packing

Packing: In 25, 50 Kgs Net HDPE Laminated Bags, In 500 & 700 Kgs Net Jumbo Bags and Bulk in container with inside HDPE Liner Bags
NON GMO Defatted Soya Flour-Toasted

Specification

Physical Form

Powder

Colour

Cream to Light Yellow

Protein

52.00 % Min

Fat

1.00 % Max

Moisture

8.00 % Max

Crude Fiber

3.50 % Max

Ash

7.00 % Max

Acid Insoluble Ash

0.30 % Max

Urease Activity

0.20 % Max

NSI

20%-30% Max

PDI

20 % Min

Partical Size

95 % pass through 100 Mesh

Microbiological

Total Plate Count

< 50'000 Cells/gm

Yeast & Mould

100 cells /g

Salmonella

Nil/25g

Coli From

<10/gm

E Coli

Absent

Packing

Packing: In 25, 50 Kgs Net HDPE Laminated Bags, In 500 & 700 Kgs Net Jumbo Bags and Bulk in container with inside HDPE Liner Bags