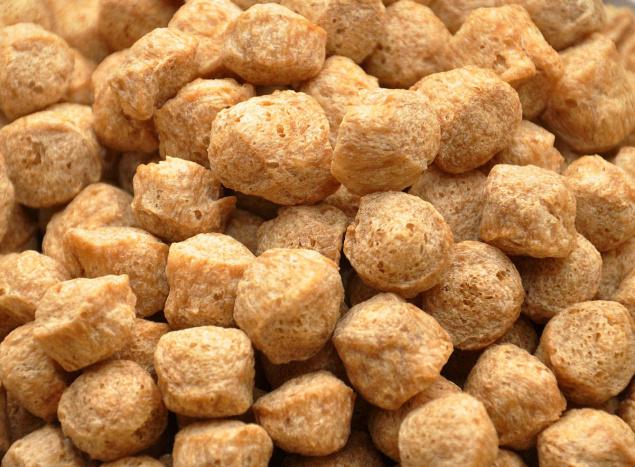 Textured Vegetable Protein (TVP), also known as textured soy protein (TSP), soy meat, or soya meat is a defatted soy flour product. It is often used as a meat analogue or meat extender. It is quick to cook, with a protein content equal to that of meat. Soya TVP is widely used as a meat substitute and extender in millions of households everyday.
NON GMO Soya TVP is made from high quality, defatted soya flour obtained from the process of seed cleaning, dehulling, oil extraction and pulverizing through a thermoplastic extrusion process under high temperature short time cooking to inactivate the anti nutritional factors present in the flour.
It is a high protein product also rich in dietary fiber & minerals and contains no cholesterol, lactose or casein. It is free from microbiological contamination.
Soya Nuggets are having full nutrition and are also easy to prepare. According to Health Claim, "25 gms of Soya protein daily, lowers cholesterol levels, preventing heart diseases".
Storage: Should be kept in cool & dry conditions below 25°C. Avoid exposure to Moisture, heat & light.
Shelf Life: 12 months from the date of manufacturing.
Packing: In 20 & 25 kg HDPE Laminated Bag with inside liner.
Soya Textured Vegetable Protein


Non GMO Soya TVP Granules

Non GMO Soya TVP Mini Chunks

Non GMO Soya TVP Chunks

Non GMO Soya TVP Steaks


Specification

Moisture

07.00 % Max

07.00 % Max

07.00 % Max

07.00 % Max

Total Fat

01.50 % Max

01.50 %Max

01.50 Max

01.50 Max


Protein

52.00 % Min

52.00 % Min

52.00 % Min

52 % Min


Crude Fiber

0.3.50 % Max

03.50 % Max

03.50 % Max

03.50 % Max

Urease Activity


00.10 % Max

00.10 Max

00.10 max

00.10 Max

Gross Calorie Value Kcal/900 gm

400.00 Gm Min

400.00 Gm Min

400.00 Gm Min

400.00 Gm Min

Acid Insoluble Ash


00.40 % Max

00.40 % max

00.40 % Max

00.40 % Max


Total Ash

07.00 % Max

07.00 % Max

07.00 %Max

07.00 % Max


Size

2-7 mm

12-15 mm

15-20 mm


18 x 40 mm to 50 mm



Bulk Density


0.28-0.32 gm/cc



0.170-0.220 gm/cc

0.170-0.220 gm/cc

0.150-0.180 gm/cc


Microbiological

Total Plate Count

< 50'000 Cells/gm

< 50'000 Cells/gm

< 50'000 Cells/gm

< 50'000 Cells/gm

Yeast & Mould

< 100 cells /g

< 100 Cells/g

< 100 Cells/g

< 100 Cells/g

Salmonella

Nil/25g

< Nil/25g


< Nil/25g

< Nil/25g

Coli From

< 10/gm

< 10/gm

< 10/gm

< 10/gm

E Coli

Absent

Absent

Absent

Absent

Packing

: In 20 & 25 kg HDPE Laminated Bag with inside liner