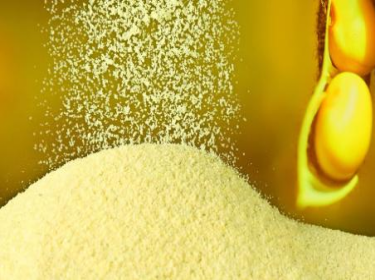 De-Oiled Soya Lecithin Granules are natural dietary source of Essential Phospholipids viz Phosphatidyl choline, Phosphatidyl ethanolamine, Phosphatidyl inositol & Phosphatidyl serine. These phospholipids are the building blocks of life and are vital for healthy function of every cell membrane in the body. It is natural Lipid lowering agent. Granules are suitable for food, dietary nutrition as well as industrial application.
De-Oiled Soya Lecithin Granules are made from Non-GMO Soybeans & are a light Cream colored powder with characteristic odor. Granules are similar to De-Oiled Soya Lecithin. The difference between the two is of the appearance. As the name suggest, granules is De-Oiled Soya Lecithin in Granular form. Due to its granular form, De-Oiled Soya Lecithin Granules as it can be applied to many drugs directly.
Lecithin granules are consumed orally as such, it can also be packed in Hard Gelatin Capsules. Lecithin Granules can be sprinkled onto Salad, Breakfast Cereals and Vegetables.
Applications: In food/bakery/confectionery as an emulsifier, thickener, stabilizer, preservative, moisturizer, emollient, etc.
In cosmetics as an additive for moisturizer, shampoos, conditioners, body wash, lip balm, etc.
NON GMO Soya Lecithin Granules

Specification

Description

Granules


Parameter

Standard


Colour

Cream Light Yellow to Brown


Appearance

Light Yellow- Cream Granules


Particale Size

2-2.5 mm

Bulk Density

0.4- 0.45 gm/cc

Acetone Insoluble


97 % Min

Moisture



0.5 % Max

Acid Value


30 Max mg KOH/gm

Peroxide Value


5 Max meg/Kg

Hexane Insoluble


0.3 % Max



Toluene Insoluble


0.3 % Max

Total ash


12 % Max

GMO Content

Negative


Microbiological

Total plate Count

1000 CFU Max


Coliform

Absent/gm

E-Coli

Absent/gm

Yeast & Moulds

100 Max


Salmonellae

Absent

Storage

Store in a cool and dry place free from toxic chemicals, Avoid exposure to light and moisture

Shelf Life

18 Months

Packaging

Primary-Linger Bags, Secondary Corrugated Box

Packaging Size


20 Kgs
Storage: Should be kept in cool & dry conditions below 25°C. Avoid exposure to Moisture, heat & light.
Shelf Life: 18 months from the date of manufacturing.
Packing: In 20 Kg corrugated box with Inner liner.