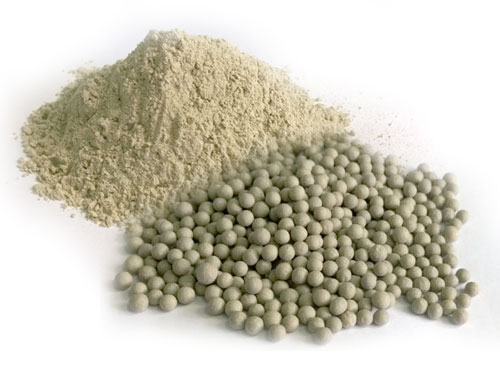 Bentonite

Specification

Moisture, % Max

14

pH Value

9 – 10

Gelling Time

Instant

Free Swelling Value, ml

28-30 min

Fineness, % Min passing through 200 mesh

85

Loss on Ignition, % weight

9 – 11

Silica as SIO2, %

47-55

Iron as Fe2O3, %

10 -13

Aluminium as AlO3, %

15-20

Calcium as CaO, %

1-1.5

Packing

50KG PP Bag and 500 kg Jumbo Bag
Bentonite is a highly colloidal clay mineral which gets its name from the place where its presence and usages were first discovered – Fort Benton, America. Bentonite is a clay mineral predominantly consisting of mineral Montmorillonite mixed with some related minerals like Nontronite and Beidellite. These are three layered Aluminosilicate with molecules of water between layers. Primarily two varieties of bentonite are available – sodium bentonite (high swelling, gelling and thermal durability) and calcium bentonite (more commonly available worldwide but with less swelling).
The multiple properties of bentonite namely hydration, swelling, water absorption, viscosity, thixotropy make it a multi-application product for diverse industries.
Our Bentonite producers having wide range of industries starting from the conventional usage areas of Iron Ore Pelletisation, Drilling, Metal Casting, Construction, Cat Litter etc. to value added areas such as paper, detergents, Animal feed etc. Our Suppliers having all the requisite certifications such as ISO 14001:2004 for Environmental management system, OHSAS 18001: 2007 for Organizations Health and Safety management system & CGMP for Good manufacturing process.
Storage: Should be kept in cool & dry conditions below 25°C. Avoid exposure to Moisture, heat & light.
Shelf Life: 12 months from the date of manufacturing.
Application