Spices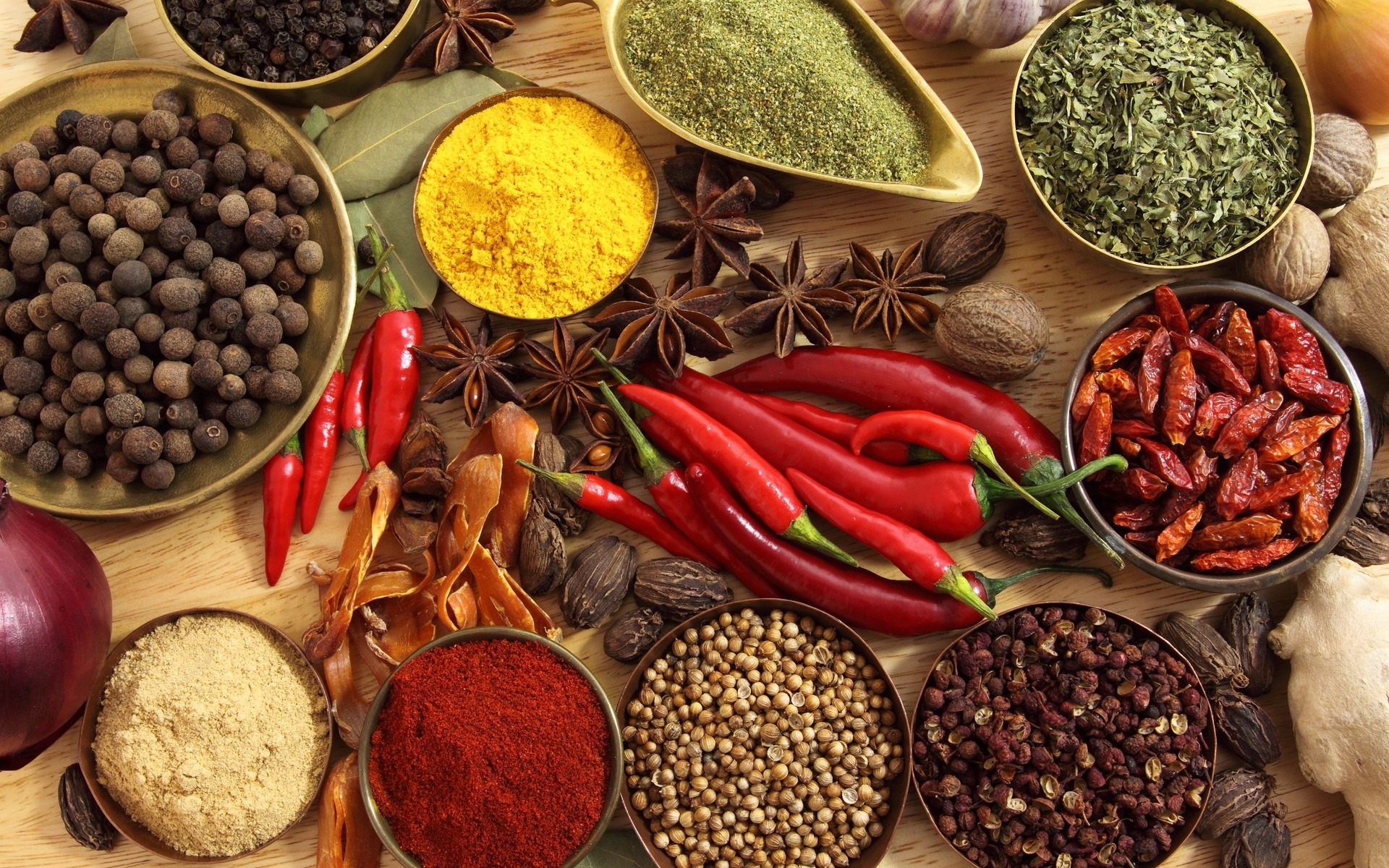 India is known as the 'The home of spices'. There is no other country in the world that produces as many kinds of spices as India. The climate of the country is suitable for almost all spices. Spices constitute an important group of agricultural commodities which are virtually indispensable in the culinary art. In India, spices are important commercial crops from the point of view of both domestic consumption and export. Besides, huge quantities of spices are also being consumed within the country for flavouring foods and are also used in medicine, pharmaceutical, perfumery, cosmetics and several other industries.
Indian Spices are not just an ingredient as they add flavour as well as aroma to the food. Spices are flavour disguisers. If spices are not added in the food it makes them tasteless. Some Species are also food preservers as well.
Through our knowledge and experience of procurement and supply we are able to purchase a good and Finest Quality Spices for our respected Buyers from our prime suppliers. We have been able to make a position for ourselves in the industry and in International market with our competitive, committed and quality trade with our associates and channel partners.
Cumin Seed
Cumin is the dried seed of the herb Cuminum, a member of the parsley family. Cumin seeds a basic Indian spice. Used for its strong but very pleasing flavor. Cumin seeds are the seeds of Cuminum cyminum, which belongs to the parsley family. It is pale green in color and elliptical in shape with deep furrows.
Fennel Seeds
Fennel seeds are greenish brown to yellowish brown oblong ovals about 6 mm (0.25 inch) long with five prominent longitudinal dorsal ridges. They contain 3 to 4 percent essential oil. Fennel seeds are the dried fruit of Foeniculum vulgare, which belongs to the parsley family. It is oval in shape and green or yellowish brown in color. It has a slightly sweet flavour.
Fenugreek
Fenugreek is the small stony seeds from the pod of a bean-like plant. Fenugreek is a plant in the family Fabaceae. The seeds are hard, yellowish brown and angular. Some are oblong, some rhombic, other virtually cubic, with a side of about 3 mm. Fenugreek seeds are a dried, ripe seed of the herb Trigonella foenum – graecum. It is brownish-yellow in color and is one of the oldest cultivated medicinal plants.
Chilli
Chilies show more or less the same aroma components as paprika, but their content in capsaicin (the amide of 3-hydroxy 2 methoxy benzylamine with 8-methyl-6-noneneoic acid) and related compounds. An indispensable and probably the most popular culinary spice in the world, chilly, have a pungent flavor. India is the largest exporter of this widely used spice.
Black Pepper
Black pepper (Piper nigrum) is a flowering vine in the family Piperaceae, cultivated for its fruit, which is usually dried and used as a spice and seasoning.
Dried ground pepper has been used since antiquity for both its flavour and as a traditional medicine. Black pepper is the world's most traded spice. It is one of the most common spices added to cuisines around the world. The spiciness of black pepper is due to the chemical piperine, not to be confused with the capsaicin characteristic of chili peppers. Black pepper is ubiquitous in the modern world as a seasoning and is often paired with salt.
Black pepper is native to south India and is extensively cultivated there and elsewhere in tropical regions. Currently, Vietnam is the world's largest producer and exporter of pepper, producing 34% of the world's Piper nigrum crop.
Turmeric
Turmeric (Curcuma longa) belongs to the Zingiberaceae family. The commercial part of the plant is its rhizome. Turmeric contains up to 5% essential oils and up to 5% curcumin. Turmeric is considered highly auspicious in India and has been used extensively in various Indian ceremonies for millennia.
Turmeric grows wild in the forests of South and Southeast Asia. It is one of the key ingredients in many Asian dishes. Indian traditional medicine, called Siddha, has recommended turmeric for medicine. Its use as a coloring agent is not of primary value in South Asian cuisine.
Coriender Seeds
Coriander (Coriandrum sativum) is an annual herb in the family Apiaceae. They are spherical in shape with a slightly pointed and flattened ends. Coriander Seeds are generally 3 – 5 mm (1/8" – 3/16") in length and the colour, when dried, is usually brown, but may be green or off white. These tan-colored, ribbed and lightweight fruits have a distinctive fragrance and orange or lemon like flavor, due to the presence of the terpenes linalool and pinene. They are usually dried but can be eaten green.
Coriander has traditionally and is still used mainly to treat all kinds of stomach and digestive problems. It is said to help regain a loss of appetite and therefore is beneficial for sufferers of anorexia. Coriander has also been used for thousands of years in medicine, to mask the naturally unpleasant taste of some medicines, as well as for medicinal purposes. Coriander is predominantly used to flavour curries and soups but can be used in many more types of dishes and meals. They are widely used as spices in preparing curries, Middle Eastern dishes, vegetables, stewed fruit, chutney, pickles, cakes, biscuits, lentils, etc. For obtaining superlative flavour, whole coriander seeds should be used within six months, or stored for no more than a year in an air tight container, away from sunlight and heat.
Cardamom
Cardamom, an aromatic spice is a member of the ginger family Elettaria cardamomum. This small pungent seed is used worldwide for flavouring variety of items including coffee, curries and desserts. It is one of the most valued spices of the world and was the principal item of trade in the ancient world. A native to the East, it has its origin in the forests of the western ghats in southern India. There are the two main genera of the ginger family 'Zingiberaceae' that are named as forms of cardamom, namely Elettaria and Amomum. Both varieties take the form of a small seedpod, triangular in cross-section and spindle-shaped, with a thin papery outer shell and small black seeds. Elettaria pods are light green in color, while Amomum pods are larger and dark brown.
Cardamom has a strong, unique taste, with an intensely aromatic fragrance. This sweet spice is used as flavorings in both food and drink. A mild stimulant, cardamom is also chewed habitually (like nuts) where freely available. It is used as flavouring for Arab and Turkish coffee which is served with an elaborate ritual. It is often used in baking in Scandinavia. The French use it in their demi-tasse. Cardamom added to milk neutralizes its mucus forming properties and it detoxifies caffeine in coffee. Cardamom is widely used to bring relief from digestive problems in Ayurveda.
Packing
25 Kg, 40 Kg & 50 Kg New Jute/PP Bags with or without inner bag / poly lined or as per customer specification / requirement.