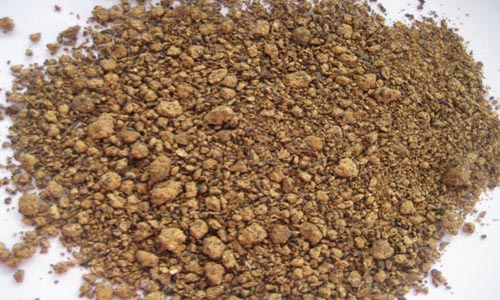 Rapeseed meal is a coarse powdery material, produced from rapeseed cake after series of preparatory physical processes followed by multistage extraction of oil under hygienically controlled conditions.
Rapeseed Meal

Specification

Protein, % Min

38

Fat, % Max

1.5


Moisture, % Max

10

Fiber, % Max


12

Sand & Silica, % Max


2.5

Aflatoxin, ppb Max


50

Free from Live Insect / weevils

Yes

Free from chemical/urea substances


Yes

Free from poisonous seed


Yes

Packing


50KG PP Bag and Loose In Container
Rapeseeds contain 40-45% oil and yield about 55-60% oil meal when fully extracted by crushing followed by solvent extraction.
The main steps of this process are seed cleaning, seed pre-conditioning, rolling and flaking, seed cooking and pressing to mechanically remove a portion of the oil, solvent extraction (hexane) of the press-cake to remove the remainder of the oil, desolventizing and toasting. Solvent-extracted rapeseed meal should not contain more than 2-3% oil.
Rapeseed meal contains approximately 40% of protein Max which rates among the nutritionally best plant proteins. For Monogastric diets it has better amino acid balance than soybean meal. Rapeseed meal is used basically in animal feed due to its protein content of 36-38%.Indian rapeseed meal is being used in India as an ingredient for cattle and poultry feed and also to many other Asian Countries for use in Animal Feed.
Storage: Should be kept in cool & dry conditions below 25°C. Avoid exposure to Moisture, heat & light.
Shelf Life: 6 months from the date of manufacturing.
Packing: In 25, 50 Kgs Net PP & Jute Bags.