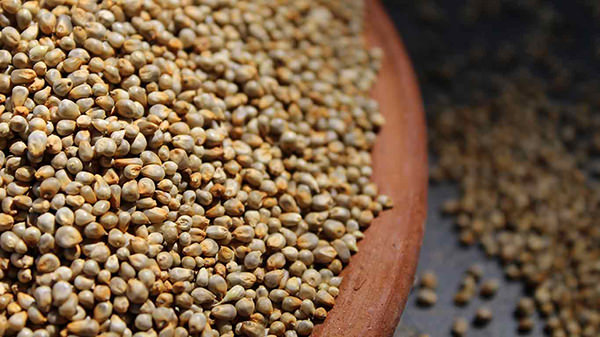 India is the largest producer of pearl millet. It is locally known as bajra. Millet is highly nutritious, non-glutinous and like buckwheat and quinoa, is not an acid forming food so is soothing and easy to digest. In fact, it is considered to be one of the least allergenic and most digestible grains available and it is a warming grain so will help to heat the body in cold or rainy seasons and climates.
Millet is tasty, with a mildly sweet, nut-like flavor and contains a myriad of beneficial nutrients. The seeds are also rich in phytochemicals, including Phytic acid, which is believed to lower cholesterol, and Phytate, which is associated with reduced cancer risk.
Millet (Pearl/Bajra)

Specification

Moisture, % Max

12

Protein, % Min

9

Aflatoxin, PPB Max

30

Broken, % Max

2

Foreign matter, % Max

2

Damaged/Discolour/Shrivield/Shrunken, % Max

3

Seed with glum, % Max

3

Free from Live Insect / weevils

Yes

Free from chemical/urea substances

Yes

Free from poisonous seed

Yes

Packing

50KG PP Bag and Loose In Container
Millets are a rich source of B vitamins like niacin, B17, B6, etc. as well as folic acid, calcium, iron, potassium, magnesium and zinc. They do not contain gluten, and are thus easily digestible. They are the only group that retain their alkaline nature and, thus, are ideal for people who are allergic to both wheat and gluten.
Millet is delicious as a cooked cereal and in casseroles, breads, soups, stews, soufflés, pilaf, and stuffing. It can be used as a side dish or served under sautéed vegetables or with beans and can be popped like corn for use as a snack or breakfast cereal.
Packing: 25 Kg, 40 Kg & 50 Kg New Jute/PP Bags with or without inner bag / poly lined, Loose in Container or as per customer specification / requirement.