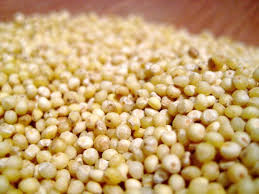 Sorghum is used for food, fodder, and the production of alcoholic beverages. It is drought tolerant and heat tolerant and is especially important in arid regions. It is an important food crop in Africa, Central America, and South Asia, and is the "fifth most important cereal crop grown in the world". African slaves introduced sorghum into the U.S., where most of the world's commercially grown sorghum is now produced, in the early 17th century.
Sorghum

Specification

Moisture, % Max

13

Protein, % Min

9

Foreign matter, % Max

2

Damaged/Discolour/Shrivield/Shrunken, % Max

3

Shrivield/Shrunken, % Max

3

Test weight, kg/hl Min

70.8

Aflatoxin, ppb Max

30

Free from Live Insect / weevils

Yes

Free from chemical/urea substances

Yes

Free from poisonous seed

Yes

Packing

50KG PP Bag and Loose In Container
Sorghum is a rich source of proteins and important nutrients like iron, calcium, potassium, etc. that are necessary to keep the body healthy. The presence of anti-oxidants in sorghum is believed to have reduced the risk of cancer, diabetes, heart disease, nerve disorders, etc. Grain sorghum also contains Vitamin B-complex that is also important for the steady growth of living beings. The presence of protein and starch in grain sorghum helps in slow digestion, and this slow digestion is beneficial for patients suffering from diabetes. For people unable to digest wheat related items, sorghum serves as an excellent replacement, again, because of its excellent digestion capability.
Packing: 25 Kg, 40 Kg & 50 Kg New Jute/PP Bags with or without inner bag / poly lined, Loose in Container or as per customer specification / requirement.